新竹拇指園民宿 Taiwan Thumb-up Retreat B & B【官方網站】

| | |
| --- | --- |
| 聯絡電話: | 886-925020920 , 886-939864580 |
| 店家地址: | 新竹縣關西鎮6ShanglinLi,Kuanhsi,HsinchuCounty,Taiwan306  |
| 相關網站: | http://thumbup.okgo.tw ← 詳細介紹 |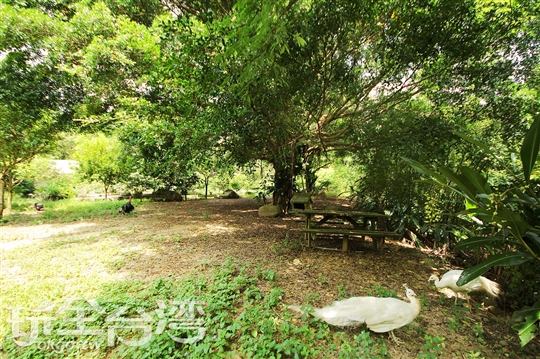 圖文 / 新竹拇指園民宿 Taiwan Thumb-up Retreat B & B提供

INTRODUCTION "拇指園"是 Tripadvisor 新竹縣人氣榜排名第一的民宿,2016年"世界旅行者之選"獎得主。本園座落於好山好水的長壽村關西鎮內,距離北二高關西交流道約 8分鐘車程。園區占地面積約4000坪 ,三面環河、形如拇指、故得其名。園內有 5 顆百年茄苳神木及各種大樹,種了上百種果樹及來自世界各地的奇花異草。養了各種自由生活和平共處的動物,無拘無束自由自在園區內走動,包括迷尼馬、孔雀、兔子、鸚鵡、火雞、珠雞、雞鴨鵝,等等。尤其在繁殖籠中養了數十種稀有鸚鵡,民宿內小太陽鸚鵡在園內自由飛行,還會自動飛到牠們喜歡的客人肩上。 【民宿資訊】 新竹民宿,新竹住宿,新埔民宿,新埔住宿,六福村住宿,六福村民宿,六福村遊樂園,內灣民宿,內灣住宿,內灣老街,北埔溫泉,北埔住宿,北埔民宿。関西民宿,関西住宿。 地址:新竹縣關西鎮上林里坪林58-6號
GPS座標:24。48'15.15""北 121。08'00.59""東 【訂房資訊】 只有兩間獨立兩人套房與閣樓,(一間可睡4人,另一間可睡8人)。 都需要預約.電話: 0925020920, 0939864580
價格:2人單間:NT6000元/日,每加1人增收1000元,含早餐下午茶。
兩間全包(最多12人)20000元/日,含早餐,下午茶及特约晚餐。 【匯款資訊】 訂金2000元/間,付款:ATM代號700郵局,帳號:0061308-0510571
或 Paypal:muzhigarden@gmail.com ‧住房時間15:00PM,退房時間11:00AM前。 【其他說明】 房內使用乾溼分離衛浴
備有毛巾及清潔盥洗用具
有空調,暖氣,冰箱、熱水壺
有電視及無線上網。 *請勿將寵物帶入園內以免打擾園內動物! 客人評論拇指園生態民宿
This secluded retreat with only 2 guest rooms is filled with first class travel amenities and warm personalized hospitality. Perfect choice for a romantic getaway or weekend retreat. It is ranked No.1 among 43 B&B's in Hsinchu County by Tripadvisor and the winner of 2016 "Traveller's Choice Award". The host is the internationally known Wittgenstein and Laozi scholar K. T. Fann. After retiring in 1995 from teaching philosophy in York University in Toronto, he returned to his native village and turned an abandoned 1 hectre ancestral farm into an organic retirement paradise. He designed and built a unique six-sided home flanked by two guest rooms, all with large windows allowing full views of the seasonal changes of the picturesque scenery outside. He planted many century-old trees; more than 100 kinds of fruit trees and flowering plants. He keeps and breeds all kinds of rare parrots and some of them are flying free and will land on guests' shoulders. There are chickens, ducks, geese, fowls, peacocks, rabbits, etc. running free. He also keeps honeybees and collects his own honey and pollen. The property is surrounded on three sides by a river and shaped like a thumb, thus named Thumb-up retreat. On one side there is a glass pagoda and on the other side a scenic washroom with an open view to the river. There is a lily pond and a fish pond on the premise. In addition, there is a treehouse where guests are invited to have special fresh cinnamon leaf tea. Recently, a wood-firing pizza and bread oven and a ceramic kiln were built. He does everything by hand and is completely self-sufficient in food. All in all he has created his own Taoist paradise and lives a life of simplicity in harmony with nature. You are welcomed to come experience it yourself.
| | |
| --- | --- |
| Thumb-up Retreat B & B-花香房 | Thumb-up Retreat B & B-鳥語房 |
| Thumb-up Retreat B & B-樹屋 | |
Accommadations
*2 rooms only
*Each 5m/6m with penthouse
*Each with full bathroom
air-conditioning
refrigerator
cable T.V.
wireless internet
*One with piano
*Check in 15:00pm, check out 11:00am

Room rates
Room rates
*Double occupancy,one room: NTD 6000/day
For each additional person add NTD 1000/day. (Max addition 2 in one room, 4 in another), includes breakfast.
*Reserving the whole B&B (12 persons Max): NTD 20000/day, include breakfast, afternoon tea and dinner.


Booking rules
*By reservation only. Please contact us by e-mail: muzhigarden@gmail.com or phone us at +886-925-020-920 or +886-939-864-580
*Deposit of NTD 2000/room is required to secure your reservation.
Please deposit by ATM to Bank No.700, A/C: 0061308-0510571
Or by Paypal, Acc. name: muzhigarden@gmail.com
Other services available
*Meals arrangement
*Tour/sightseeing assistance
*We can also provide customised in-depth tour of Taiwan.